Prof. Adom Getachew named Freedom Scholar for work advancing racial, economic justice
October 9, 2023
(last updated on October 10, 2023)
---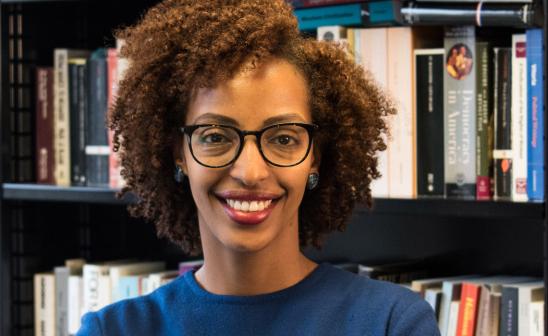 This story was originally published by UChicago News. Read the article on their site here.
The Marguerite Casey Foundation has named University of Chicago Prof. Adom Getachew one of its 2023 Freedom Scholars, presented to academics who are leading research and engaging in movement organizing that advances racial and economic justice.
Now in its fourth year, the Freedom Scholars initiative provides a one-time, unrestricted award of $250,000 to each honoree to advance their work. Six scholars were named in the Sept. 27 announcement.
"I am incredibly honored to be selected as a Freedom Scholar, joining an interdisciplinary group who model engaged scholarship," Getachew said.
Getachew teaches in the Departments of Political Science and Race, Diaspora and Indigeneity at UChicago. She is a renowned political theorist with research interests in the history of political thought, theories of race and empire, and post-colonial political theory.
Her work focuses on the intellectual and political histories of Africa and the Caribbean. She is the author of "Worldmaking after Empire: The Rise and Self-Determination" (2019) and co-editor, with Jennifer Pitts, of "W. E. B. Du Bois: International Writings" (2022).
"The 2023 Freedom Scholars are at the forefront of teaching, researching and writing about shifting the balance of power in society," said Marguerite Casey Foundation President and CEO Carmen Rojas. "The Marguerite Casey Foundation's Freedom Scholars award is committed to providing social and economic justice scholars room to deepen their relationship with movement leaders fighting for a multiracial democracy and just economy."